2016 Elections
What Happened to Scott Walker?
Peaking too soon was just the start of his troubles.
by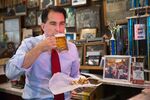 Scott Walker, the governor of Wisconsin, suggested in March that he might be the front-runner for the Republican presidential nomination. Monday, he dropped out -- months before any primary votes will be cast. The quick move from frontrunner to left-behind status should remind us of a few things about the Republican race, and about politics generally.