Tech
Can Deezer Make Money Streaming Music?
IPO filing shows few indications of future profit.
by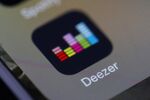 Deezer, the Paris-based music streaming service, will be the first company in that budding industry to go public. Its initial public offering prospectus, for a share sale toward the end of the year, provides fascinating insight into how the streaming business works -- or rather, how it could work.