U.S. Economy
On the Waterfront, 2015. This Time It's Cheery.
U.S. ports are having a banner year, a signal of economic strength.
by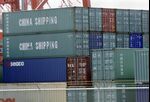 Missing from dispiriting summer headlines about slowing growth in China, plummeting stock and commodity markets and a presidential race dominated by Donald Trump is this cheerful fact: More stuff than ever before was shipped to the U.S. from the rest of the world.
The auto parts, clothes, electronics, raw materials and processed ones unloaded at America's biggest ports are setting monthly records. Through the first eight months of this year, business on the four largest waterfronts -- Los Angeles and Long Beach on the west coast and New York/Newark and Savannah in the east -- was the busiest ever, signaling the best year for retailers and consumers in at least a decade.
Record Year for U.S. Ports

"The economy here is super strong relative to the rest of the world, and the strongest I've seen it in a very long time," Jon W. Slangerup, chief executive officer of the Port of Long Beach, said in an interview earlier this month. He said Long Beach's record cargo volume for July and August, up 18.4 percent and 22.8 percent from 2014, indicates that September also will see unprecedented traffic and enable 2015 to break the record set in 2007, before the recession.
The surging traffic since March follows a labor dispute between west coast employers and the union representing 20,000 dockworkers, which devastated 29 seaports for four months and kept as many as 36 vessels idled offshore. Los Angeles lost 400,000 units of cargo, equivalent to more than two weeks of volume. The ensuing rebound, however, is "not just a big one-time spike," Gene Seroka, executive director of the Port of Los Angeles, told Bloomberg earlier this month. 
Instead, it's evidence of how much American manufacturers and consumers are benefiting from the 53-percent decline in oil prices since June 2014. Also, more people are joining the workforce; the unemployment rate declined to 5.1 percent from 5.7 percent in January and the 10 percent high in 2009. Retail sales remain buoyant, with U.S. automakers forecasting sales of more than 17 million vehicles in 2015.
Shipments to the U.S. from Australia, Japan, Malaysia, Singapore, South Korea and Thailand are rising this year. For example, the value of Japanese exports to the U.S. rose 16 percent from January through August compared to the same period in 2014, according to data compiled by Bloomberg.
So far this year, 9.7 million TEUs, or 20-foot-equivalent units (a standard measure of container capacity), have been shipped to North America from Asia, a record 8.4 percent increase from last year and the greatest volume since 2011, when Bloomberg started compiling the data. The 8.3 million TEUs that shipped to the four big ports in the eight months through August also is the most since at least 2008.
To appreciate the scope of robust business at U.S. ports, look at Danaher Corp., the life-science equipment maker based in Washington, D.C. Among Danaher's 21 suppliers are Tata Steel, based in Mumbai, India; Air Liquide, the Paris-based maker of industrial and health care gases; and TCL Communication Technology, the Hong Kong-based manufacturer of mobile handsets and other wireless products. Danaher, whose major U.S. customers include Exxon Mobil, General Electric and Chevron, is outperforming the Standard & Poor's 500 Index, which is down 4.89 percent this year, with a return of 0.9 percent.
The biggest reflection of the resurgent U.S. ports is the revenue from the large and small firms that make up the consumer discretionary group in the Russell 3000 index. These publicly traded companies, which include Amazon, Home Depot and Nike, reported $492.32 of revenue per share in the quarter ended Sept. 18, the most since 2008 when Bloomberg started compiling data. The earnings per share of $29.68 also were the most in at least seven years.
Shares of those consumer companies produced a 3.7 percent total return, beating their global peers by 0.85 percentage points as the top performer among the 10 industry groups. That's evidence that U.S. consumers have never been busier while consumer discretionary investors are showing record confidence in the U.S. economy.
Slangerup couldn't be more bullish. "When you look at unemployment, consumer confidence, savings, available discretionary spending, all of these numbers suggest that we have more to spend," he said.
And more to unpack from the U.S. ports in the months to come.
(With assistance from Shin Pei)
This column does not necessarily reflect the opinion of the editorial board or Bloomberg LP and its owners.
To contact the author of this story:
Matthew Winkler at mwinkler@bloomberg.net
To contact the editor responsible for this story:
Jonathan Landman at jlandman4@bloomberg.net
Before it's here, it's on the Bloomberg Terminal.
LEARN MORE