Russia
A Loyal Governor Feels Putin's Wrath
A corruption arrest is a warning to other Russian bureaucrats.
by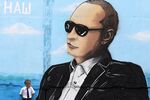 Russia has never seen a corruption case like this. The successful governor of the Komi Republic, who was faultlessly loyal to President Vladimir Putin, has been accused of leading a criminal organization that allegedly included a number of his region's top officials. As cheap oil forces Russians to tighten their belts, however, there probably will be more crackdowns, and local elites are being told they can't keep stealing as freely as before.
By all formal parameters, Vyacheslav Gaizer was a model governor. Unlike many other local leaders, who were picked by Putin to administer regions they barely knew, he was born in the Komi Republic, a vast, resource-rich territory with a population of 2 million in Russia's European north. He worked for one of Russia's first private banks and opened its Komi branch. He joined the local government in 2002 and had a relatively quick rise: In 2010, President Dmitri Medvedev appointed him governor. After gubernatorial elections were reintroduced, he was elected to the post in 2014, winning 78 percent of the vote. In the pro-Kremlin "Governors' Efficiency Ranking," published by the Civil Society Development Foundation, he was ranked fourth. And he was a member of the leadership board of the pro-Putin United Russia party.
Yet now, the Investigations Committee -- Russia's equivalent of the U.S. Federal Bureau of Investigation -- calls him the leader of a "criminal community" that allegedly included the speaker of the regional legislature, a vice-governor and a number of other officials and local business executives -- 15 people in all for now. The bureaucrats' offices and homes were searched, and the investigators discovered expensive watches, offshore company documents and other familiar trappings of Russian superwealth. The officials are accused of illegally appropriating state-owned lumber, milk, poultry and other companies.
One of Gaizer's lieutenants is charged with forcing the bankruptcy of a lumber yard, which he then allegedly handed to a St. Petersburg investment company. That episode tipped off the investigators: they had been looking into the investment company because of connection to a Defense Ministry corruption scandal. Other deals of a similar nature -- intentional mismanagement, then appropriation or state-guaranteed loans and subsidies to companies controlled by the group -- soon came to light.
There's nothing particularly novel about this backstory: Russian governors have a record of corruption. This year, for example, the governor of Sakhalin island was arrested for accepting a bribe. Usually, however, this only happens after repeated quiet warnings, and there's usually an unspoken political angle to the cases: the unlucky governors are usually a hindrance to United Russia's electoral performance. 
There is no sign that Gaizer had heard so much as a whisper that Moscow was unhappy, and he'd been diligent in helping United Russia win elections. He even led the party in the legislative vote just a week ago, securing a United Russia victory with 58 percent of the vote. Besides, this is the first time a governor's entire team has been apprehended. Describing a local elite as a "criminal community" could be risky: If the Komi Republic's administrators could operate for years, mimicking an effective bureaucratic team, perhaps such networks are operating in other regions, which could mean the entire system is hopelessly corrupt -- something Putin would hate to admit.
Yet the Russian president allowed the extraordinary crackdown. Putin likes using arrests and criminal investigations to lay down new rules. In 2003, he brought the oligarchs to heel by jailing Russia's richest man, Mikhail Khodorkovsky. In 2013, an investigation against functionaries of the Skolkovo innovation center signaled the end of Medvedev's policy of government support for long-shot tech projects. Now, he's sending a signal to governors.
Komi also has natural gas, coal, bauxite and a limitless supply of timber. Yet last year, 21 percent of its budget consisted of subsidies from Moscow, and it still had a deficit. That, of course, is partly the fault of Russia's overcentralized budgetary system, but Komi could have done much better. Now that oil is cheap, the government is discussing ways to curb spending. Putin knows, however, that widespread graft is one of Russia's biggest resource drains. 
The anti-Putin commentator Olga Romanova has likened the Gaizer case to the recent firing of Putin's friend Vladimir Yakunin as head of the Russian railroad monopoly. "A limit of inefficiency has been reached beyond which it makes no sense to hold on to a loyal ally," she wrote. "You can't fill the budget with loyalty, this is the wrong time for that."
Even pro-Putin commentators seemed to echo Romanova's judgment. "It's extremely important to understand that political support or a high rank will be no help in a case that involves the embezzlement of state property or corruption-related crimes," said Konstantin Kostin, head of the Civil Society Development Foundation. 
Gaizer's arrest is meant to keep governors and other bureaucrats on their toes and compel them to temper the demands they make of the central government. In this environment, winning local elections isn't much of an achievement. Bringing in more money -- or at least taking much less of it -- is now the more desirable result. 
This column does not necessarily reflect the opinion of the editorial board or Bloomberg LP and its owners.