Federal Reserve
The Fed Should Raise Its Inflation Target
If they're expecting years of below-target inflation, why do Fed members still plan to raise rates this year?
by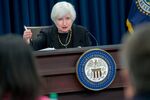 My Bloomberg colleague Michael McKee asked a really good question at Janet Yellen's press conference Thursday: If the Federal Open Market Committee expects below-target inflation for years, why do most its members think a rise in interest rates before the end of this year is called for?
The headline from the statement was that interest rates are staying at zero for the moment. But among the materials released with the announcement is the so-called dot-plot, which displays each FOMC member's "judgment of the midpoint of the appropriate target range for the federal funds rate." This shows that 13 of the 17 participants expect a first rise in interest rates to be warranted before the end of this year.
Turning to another page of the FOMC's forecast, you see projected inflation remaining below the target rate of 2 percent for three more years -- it eventually gets to 2 percent at the end of 2018. On the face of it, even allowing for lags in monetary policy, the prospect of three years of below-target inflation does not argue for an increase in interest rates by December of this year.
Hence McKee's question. Unless I'm mistaken, it was the only one during the press conference that made Yellen stop and think. (The video is here. The exchange begins at 40:40.) Her answer, plausibly enough, emphasized the lag between changes in interest rates and the effect on inflation:
So, if we maintain a highly accommodative monetary policy for a very long time from here and the economy performs as we expect, namely it's strong and the risks that are out there don't materialize, my concern will be that we will have much more tightening in labor markets than you see in these projections and the lags will be probably slow, but eventually we will find ourselves with a substantial overshoot of our inflation objective and then we'll be forced into a kind of stop-go policy. We will have pushed the economy so far it will have become overheated. And we will then have to tighten policy more abruptly than we like. And instead of having slow steady growth improvement in the labor market and continued improvement in good performance in the labor market, I don't think it's good policy to have to then slam on the brakes and risk a downturn in the economy.
In other words, it's better to be cautious. Delaying the first interest-rate increase too long would force the Fed to tighten more sharply later on, and that might unsettle the recovery.
True enough -- yet McKee's point stands. Yellen refers to maintaining "a highly accommodative monetary policy for a very long time." That isn't the issue. The question is whether the prospect of three years of below-target inflation supports the need for an interest-rate increase in the next few months. That would seem to be erring rather far on the side of caution.
Actually, it seems to say that 2 percent inflation is a ceiling that must not be breached rather than a target that occasionally can be. Yellen was asked about that too and said it was indeed a target. If it were a ceiling, she said, "you would have to be conducting a policy that on average would hold the inflation rate below 2 percent. That is not our policy."
Isn't it? You wouldn't know it from looking at the forecasts. Below-target inflation is not only what the Fed has achieved, year in year out, but also what it intends to carry on achieving until the end of 2018.
If the Fed doesn't want to publish a forecast showing inflation rising above 2 percent, it should perhaps acknowledge that its target is indeed a ceiling. And then, having done that, it should perhaps raise the ceiling to 3 percent. 
This column does not necessarily reflect the opinion of the editorial board or Bloomberg LP and its owners.