Companies
Carly Fiorina's HP Record in One Chart
Based on returns to investors, it wasn't awful.
by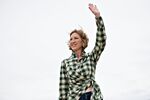 Republican presidential candidate Carly Fiorina wasn't the greatest chief executive officer in corporate history. That much we can all agree on. Assessments of her 5 1/2 years in charge of tech giant Hewlett-Packard are everywhere these days, most of them negative. Fiorina herself offered a less-than-convincing defense in Wednesday night's debate -- yes, the company's revenue doubled during her tenure, as she said, but that was mainly because she made a gigantic and controversial acquisition.
That $19 billion purchase of computer maker Compaq was the signature move of Fiorina's time at HP. It occasioned a revolt led by HP director Walter Hewlett, son of company co-founder Bill Hewlett. It brought criticism from Wall Street and sniping from rivals. Scott McNealy of Sun Microsystems called it "a slow-motion collision of two garbage trucks." Michael Dell of Dell Computer said it was the "dumbest deal of the decade," a doomed attempt to "copy IBM."
Fiorina was trying to copy IBM, or at least give HP the scale and breadth to compete successfully for corporate clients against Big Blue. Before the Compaq deal (announced in 2001, completed in 2002), she made a run at PricewaterhouseCoopers's consulting business, only to blanch at the $18 billion price tag. After the deal she got HP into information-technology services in a big way,  running IT departments at Procter & Gamble and hundreds of other companies.
How did it all work out? Opinions vary. Bloomberg Politics published a "Rashomon Roundtable" on the Compaq deal in May that nicely displays the wide range. But there is one simple, indisputable measure -- how did HP's total return to shareholders compare with  Sun, Dell and IBM, probably its most important competitors, in the years that followed Fiorina's appointment as CEO in 1999?

When the board pushed Fiorina out on Feb. 10, 2005, things weren't looking so great. HP's stock, as was the case at almost every tech company, was still below its 1999 levels. Among the four rivals, only Sun had done worse. My then-colleague at Fortune magazine, Carol Loomis, had just written a cover story titled "Why Carly's Big Bet Is Failing."
Then, not longer after Fiorina left, the bet started paying off. Part of the initial rise in HP's stock price was probably relief that the contentious Fiorina era was over. And much of the company's stock market success during the next five years can be attributed to Mark Hurd, the relentless cost-cutter who took over as CEO about a month after Fiorina left. But Hurd was for the most part executing the strategy that Fiorina had laid out. Her plan to make HP a credible competitor for IBM worked far better than the strategies of McNealy and Dell and enabled HP to modestly outpace IBM as well. Fairly assigning credit between Fiorina and Hurd here is impossible, but it seems clear that (a) Fiorina didn't leave behind a basket case of a company and (b) the Fiorina-Hurd era was -- again, by the metric of total shareholder return -- a relative success.
Not long after my chart stops, though, everything began to fall apart. In August 2010, HP's board pushed out Hurd (now co-CEO of Oracle) after an investigation of a sexual harassment claim absolved him of the sexual harassment but found irregularities in his expense accounts. The board put Leo Apotheker, the former co-CEO of German software maker SAP, in charge and he set about shocking investors and employees with a series of abrupt decisions that culminated in the $11 billion acquisition of British search-software firm Autonomy.  Apotheker was fired less than 11 months after he assumed control, the company's stock price fell almost 50 percent during his tenure and within a year after his departure HP had written down almost all of Autonomy's value and accused its executives of perpetrating a gigantic accounting fraud (they beg to differ). Now that's a failed CEO.
Ever since, current CEO Meg Whitman has been trying to clean up the mess, with limited success. Now she's splitting HP into a provider of services and servers to large enterprises, which she will keep running, and a printer and personal-computer maker. That isn't really a repudiation of Fiorina's strategy, which was all about selling to enterprises, and even if it were the fact that a company changes direction in 2015 doesn't mean its CEO was wrong to set that direction in 2001. It does seem fair to say that the Fiorina-Hurd emphasis on consolidation and efficiency moved HP even farther away from the inventiveness and innovation of its early days. But that happens to lots of companies when they get big. HP had the added disadvantage, as former director Tom Perkins put it in a full-page New York Times ad last month, of having an "ineffective and dysfunctional" board that made life hard for its CEOs.
So, no, Carly Fiorina was not the greatest CEO in corporate history. But she certainly wasn't the worst, either.
This column does not necessarily reflect the opinion of the editorial board or Bloomberg LP and its owners.