Markets Still Don't Agree With the Fed
Thursday's decision hasn't resolved a potentially destabilizing difference of opinion.
by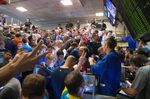 The U.S. Federal Reserve's decision to leave its interest-rate target unchanged has dispelled some of the uncertainty looming over global markets. It hasn't done much, though, to resolve the sharp disagreement between the Fed and investors about what the central bank and the U.S. economy will do from this point on.