It's Still Nice to Be a Cable Company
Cable TV is fading, not high-speed Internet access.
by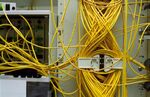 Remember how back in February, the Federal Communications Commission imposed new "open Internet" (aka net neutrality) rules on broadband providers? And how in April Comcast, facing opposition from the FCC and the Justice Department, dropped its plan to buy Time Warner Cable?