In Republican Civil War, Dark Forces Reign
Bush and Kasich say it's morning in America; their rivals see evil all around.
by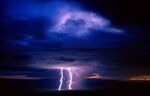 The Republican presidential debate last night revealed a party markedly different from the one that coalesced, however grudgingly, around Mitt Romney in 2012. The fractures are more numerous, and run deeper.