If Putin's on the Line, Just Hang Up
The prank played on Elton John probably got a laugh at the Kremlin.
by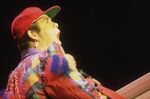 Why did Sir Elton John, a tireless campaigner for gay rights, put up a picture of the non-gay-friendly president of Russia on Instagram? It turns out the singer was taken in by a crude phone prank by a celebrity of the Russian propaganda machine.