Greg Hardy Prosecutors Bowed to NFL Justice
The league cut a deal to keep photos of the victim away from the public.
by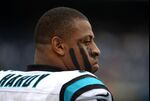 The NFL enjoys more-than-equal treatment under the law in many ways, from its congressional antitrust exemption to its longtime nonprofit status to huge tax breaks for shiny new stadiums. To that list, you can now add redefining access to public records and skirting employee rights and protections.