Ukraine's Failed Tech Revolution
Snapchat's acquisition of a local startup is another reminder of what could have been.
by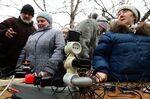 On Tuesday, Snapchat users got a new feature to play with, called Lenses. Now they can modify their photos and short videos to show themselves with altered facial features, cartoonish eyes or rainbows coming out of their mouths. They can thank the biggest deal involving a Ukrainian tech company.