The Candidates in Verse
A double-dactyl delight for every presidential contender.
by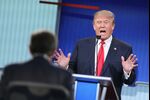 In advance of Wednesday night's Republican debate, I present a set of double-dactyl poems on all of the serious contenders from both parties. As I have explained before, the double dactyl is a form of light verse with quite exacting rules of meter. If you'd like to read the rules, check here. But a glance at the verses below will quickly make the game clear.
Note that the first line is always nonsense. Here I have used, alternately, "Higgledy-Piggledy" and "Jiggery-Pokery," two common openings of double-dactyl poems. I believe I've included all the candidates. If I've missed one, I apologize in advance to his or her supporters. 
*****
Higgledy Piggledy,
Democrat Hillary --
Poll numbers lately
have taken a bath.
Said to be losing her
unstoppability  --
Still can prevail on
electoral math.

(This article has been updated to correct the meter in this poem.)
*****
Jiggery Pokery,
Donald the Trumpeter --
Pundits decry him
as all full of fluff.
Wants to rely on his
autobiography --
Question is whether
we're angry enough.
*****
Higgledy Piggledy,
Bernie the crowd-pleaser --
Frightens establishment
out of its wits.
Promises policies
redistributional.
His staying power must
give Wall Street fits.

*****
Jiggery Pokery,
John Bush of Florida,
known to the voters quite
simply as Jeb. 
Strange deja vu for his
paterfamilias --
Watching a second son's
poll numbers ebb.
*****
Higgledy Piggledy,
Carson the tranquil is
quietly surging near
top of the charts. 
Calmness must stem from his
neurosurgosity --
seems more relaxed than his
fellow upstarts.
*****
Jiggery Pokery,
Kasich the pragmatist,
combative leader of
major swing state.
Came under fire for his
sentimentality,
Now it's the right he must
try to placate.
*****
Higgledy Piggledy,
Cruz the conservative --
right, left or center, he's
quick to attack. 
Saves his best shots for the
intelligentsia
Loves the Tea Party
and they love him back.
***** 
Jiggery Pokery,
Paul the Kentucky guy.
Few can recall if it's
Ron or it's Rand.
Thinks that the welfare state's
unlibertarian --
Those who love benefits
can't understand.
*****
Higgledy Piggledy
Carly the technocrat
Says she'll run government
more like a biz.
Talks like a college's
valedictorian --
Still her campaign just can't
get enough fizz.
*****
Jiggery Pokery,
Jim Webb the war hero --
Media darling for
two minutes flat.
Tries to make virtue of
hyper-centrality --
Too bad that's not where
the country is at.
***** 
Higgledy Piggledy,
Senator Rubio
must deal with critics who
say he's too young.
Marco replies that his
marketability
means he should leap to the
very top rung.
*****
Jiggery Pokery,
Walker the governor.
Stared down the unions
and made the right cheer.
Yet to show national
electability --
It's getting harder as
voting draws near.
*****
Higgledy Piggledy,
Minister Huckabee --
trying to run yet
stay true to his faith.
Wants to put limits on
marriageability,
but in some polls he's still
sitting at eighth. 
*****
Jiggery Pokery,
Christie the Jerseyman.
All voters know is he
closed that darn bridge.
He says that evidence
incontrovertible
proves that he didn't -- they
don't care a smidge.
*****
Higgledy Piggledy,
Jindal of Baton Rouge --
Former Rhodes Scholar
and popular gov. 
Tweeters find speeches too
sesquipedalian,
ask what he wants to be
president of.
*****
Jiggery Pokery,
Lindsey the senator --
Angered some voters by
pushing tax hike.
Rightists complain he lacks
predictability --
ACU score is not
high as they like.
*****
Higgledy Piggledy,
Rick the conservative
claims that of all he leans
most to the right. 
GOP fears he's too
ultratraditional:
"Let's keep Santorum way
far out of sight." 
*****
Jiggery Pokery,
George the ex-governor --
native New Yorker from
small town upstate. 
Polls say Pataki has
invisibility --
Pundits predicting quick
withdrawal date.
***** 
Higgledy Piggledy,
Martin of Maryland
Waits for a gaffe at the
head of the clique.
Some think he's running quite
vice-presidentially --
hoping for place at the
foot of the tick.
*****
Jiggery Pokery,
Warren the firebrand
keeps on insisting she's
not in the race.
Fans aren't bothered by
improbability --
hope a late entry might
somehow take place.
*****
Higgledy Piggledy,
Biden of Delaware
hasn't announced if he's
in or he's out. 
Some say he's acting quite
hyper-strategically --
All are agreed he'd have
plenty of clout.
*****
Jiggery Pokery,
Chafee the Islander,
former Republican
runs as a Dem. 
Voters are treating him
radioactively --
Often in polls he gets
zero from them.
*****
Higgledy Piggledy,
Gilmore the governor -- 
Nobody seems to know
quite who he is.
Hard as he works he's still
hyper-anonymous --
Always the one we
forget in the quiz.
This column does not necessarily reflect the opinion of the editorial board or Bloomberg LP and its owners.