Let the Los Angeles Times Live
Without new owners and fresh cash, the newspaper is dying a slow death.
by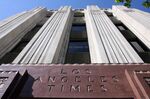 The past 15 years would have been really tough for the Los Angeles Times no matter what. It is the country's biggest metropolitan newspaper in an era when most of the economic underpinnings of metropolitan newspapering have collapsed.