'Noflation' and the Limits of Quantitative Easing
Central bankers seem powerless to goose consumer prices.
by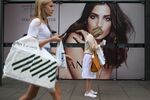 Call it "noflation."
Consumer prices everywhere are stubbornly refusing to rise even after central banks have pumped trillions of dollars into the global economy via quantitative easing. Figures published on Tuesday show that annual consumer prices were stagnant in the U.K. last month, the 20th consecutive report that's missed the Bank of England's 2 percent target. QE, it seems, isn't the economic panacea it promised to be.
Here's how U.K. inflation has performed in the past five years:

If U.K. monetary policy makers didn't raise rates in 2011 when the average annual inflation rate was 4.4 percent, or 2012 when it was 2.9 percent, or 2013 when it was 2.6 percent, or 2014 when it was 1.5 percent, why on earth move in 2015 -- when it's been 0.1 percent? There's a yawning gap between waiting until you see the whites of inflation's eyes and pulling the trigger when prices are dead in the water.
Discussing higher borrowing costs when there's no evidence of inflation seems crazy to me. Yet, writing in the Scotsman newspaper on Sunday, Monetary Policy Committee member Martin Weale suggested he'd be willing to raise rates (the MPC next meets Oct. 8) even if subsequent economic data prompted a U-turn:
It is possible that, if events turn out very differently, a path of gradual rate rises might have to be reversed somewhat. For me, a fear of costs associated with such a change of direction should not lead us to hold back from changing bank rate.
As my colleague Mark Whitehouse pointed out this week, the U.S. is similarly beset by a persistent lack of price pressures. Even when you parse the U.S. data to account for anomalies such as faster price acceleration in education, carving the population into different groups suggests no one is seeing inflation.
The only way to get inflation in Britain in the current climate might be for the Labour Party to somehow stage a coup and take over the government. That way, the opposition party's newly appointed Treasury spokesman John McDonnell could implement his 2012 policy plan whereby "in the first week of a Labour government, democratic control of the major economic decisions would be restored by ending the Bank of England's control over interest rates."
Putting British politicians back in charge of monetary policy should frighten the horses sufficiently for prices to start rising as investors anticipate a spending free-for-all typical of vote-chasing governments. Joking aside, though, it may turn out that the answer to avoiding deflation does indeed lie with governments, not central banks.
Writing in the Financial Times last week, Sebastian Mallaby, a senior fellow at the Council on Foreign Relations, suggested that we're seeing the limits of central bank power to stimulate the economy by buying government bonds via QE:
Come the next recession, it may have to be budget stimulus, the handiwork of grubby politicians -— not the monetary stimulus ordained by central bankers —- that rides to the rescue.
The longer consumer prices stagnate -- slowflation, disinflation, deflation, call the phenomenon what you will -- the more ludicrous it seems that either the Federal Reserve or the Bank of England should be contemplating tighter monetary conditions. 
To contact the author of this story:
Mark Gilbert at magilbert@bloomberg.net
To contact the editor responsible for this story:
Therese Raphael at traphael4@bloomberg.net
Before it's here, it's on the Bloomberg Terminal.
LEARN MORE