Google's 'Self-Driving Toaster' Finally Rattles Automakers
A new hire shows the search-engine giant is getting serious about autonomous cars.
by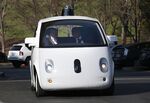 Before Google introduced the prototype of its autonomous car -- aka the "self-driving toaster" -- to the public last year, the search-engine giant made the rounds of the major automakers to explain the concept. At least one of the automakers was sufficiently impressed to express interest in collaborating, but was astounded to find that Google had no commercialization plans of any kind for its potentially game-changing technology.