4 Reasons to Stop the S&P 500 Comparisons
The index measures stock performance and not much else.
by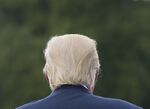 It has become fashionable to compare every financial asset, asset manager or investor to an index of U.S. stocks. For example, many people compare hedge funds to the Standard & Poor's 500 Index. We saw this recently as people discussed whether Donald Trump's business career has been more successful than an investment in the S&P 500. As my Bloomberg View colleague Matt Levine points out, this isn't an apples-to-apples comparison.