Did Charlie Hebdo Mock the Dead Refugee Boy?
The magazine is criticized for its cartoons of Aylan Kurdi; but they are a powerful contribution to the refugee debate
by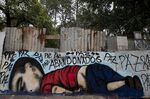 The French satirical weekly Charlie Hebdo has become obsessed with Aylan Kurdi, the drowned Syrian toddler who became a symbol of Europe's refugee crisis. It came as a shock to many people who supported the publication after it was attacked by terrorists this year, and the social networks are filled with indignation. It's still the same Charlie, though, and it's doing a great job.