Where's the Inflation?
The old, the wealthy and Asian-Americans are experiencing higher prices, but not the U.S. population as a whole.
by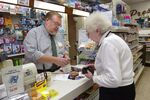 When Federal Reserve officials meet this week to discuss how much more stimulus the U.S. economy needs, they will have to parse various arguments about the threat of inflation. Those who want the Fed to raise interest rates, for example, sometimes assert that whatever the headline numbers show, price increases are already hitting some people hard.
The data don't present much reason for concern.
The Bureau of Labor Statistics estimates that overall consumer prices were down 0.2 percent in July from a year earlier, driven largely by a sharp decline in oil prices. Even after stripping out food and energy, prices were up 1.8 percent -- or 1.2 percent, according to the Fed's preferred measure, produced by the Bureau of Economic Analysis. That's well below the central bank's longer-term target of 2 percent.
Nonetheless, different people might have different experiences. The elderly, for example, tend to spend more on prescription drugs and medical care. Younger people spend more on education. Basics such as food and energy take up a larger share of the household budget for the poor than they do for the wealthy. Depending on the behavior of prices for those items, inflation for certain groups might be higher or lower than for the larger population.
So who is experiencing the most inflation? To get a sense, we can match data on what specific groups of people actually buy (from the 2014 Consumer Expenditure Survey) with BLS data on how the prices of those goods and services have changed. The categories, which range from eggs to auto insurance, don't align perfectly across the data sets. Still, they're close enough to provide a rough picture.
The result: The elderly, the wealthy and Asian-American consumers endured the biggest price increases in the year through July. The weighted average cost of the goods and services typically purchased by people 75 and older rose 0.31 percent, driven largely by housing and medical expenses. The inflation rate for people with annual incomes in the top decile (more than $140,196) was 0.34 percent, in part because they spend more on education, and in part because energy -- which declined in cost -- made up a smaller part of their budget. Inflation for Asian-Americans was 0.47 percent -- here, too, education played a role.
Here's a breakdown by group:

Despite the differences, no group experienced anything close to excessive inflation. Even if we strip out volatile food and energy prices, the inflation rates for all groups remained below 2 percent in the year through July. Here's how that looks:

In short, it's hard to find any group for whom inflation is a problem yet. That's something Fed officials will certainly keep in mind as they decide whether to go ahead with the central bank's first interest-rate increase in more than a decade.
This column does not necessarily reflect the opinion of the editorial board or Bloomberg LP and its owners.
To contact the author of this story:
Mark Whitehouse at mwhitehouse1@bloomberg.net
To contact the editor responsible for this story:
Max Berley at mberley@bloomberg.net
Before it's here, it's on the Bloomberg Terminal.
LEARN MORE