U.K. Labour Party Was Dead Already
Yes, Jeremy Corbyn is unelectable -- but so were his more mainstream opponents.
by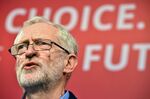 Something simple is missing from the analysis of how Jeremy Corbyn just came from the forgotten recesses of Britain's hard left to take over the mainstream Labour Party: It's the "why not?" factor.