view
Refugee Crisis Is a Bureaucratic Problem
Processing so many people so quickly is difficult even for Germany.
by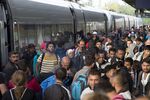 Given the pro-refugee sentiment in Germany, Sunday's announcement that the government was reintroducing passport controls on the border with Austria appears inconsistent. It isn't: There aren't too many refugees for Germany to take, just too many for the bureaucratic machine to process as fast as they're arriving.
On Saturday, an unusually large number of refugees arrived in Munich via Austria. The authorities did their best to provide temporary housing or put people on trains and buses to other parts of Germany, but, according to a panicky report from Bavarian television, about 5,000 people still lacked beds by Saturday night. The mayor of Munich was thinking of opening the 1972 Olympic stadium as a temporary refugee shelter. By Sunday, the panic subsided somewhat: Only 3,000 people arrived that day, and out of Saturday's 13,000, just a few dozen had to spend the night at the train station, according to a Deutsche Welle report. 
In Berlin, hundreds of migrants gather every weekday at the registration office in the working-class neighborhood of Moabit, and the scene is chaotic with long lines to get into the building and families camping out on the lawn outside. By evening, however, the lawn clears: The refugees are either given accommodation or vouchers to pay for hostel rooms. The German bureaucracy is far more efficient than the overmatched systems on the Greek island of Lesbos or in Hungary, where thousands of new arrivals live in flimsy tents and sleep by the roadside.
Even Germany, however, is feeling the shock in towns with no experience of refugees. One reader wrote to me recently:
I come from a very small town called Lobenstein on the Thuringian-Bavarian border. Three weeks ago 100 refugees were shipped in. Nobody was asked if they want this. The local police station was closed down in order to accommodate them within 24 hours. Since the arrival everything is upside down in the small spa town. There is right-wing and left-wing groups demonstrating on the market square. There's Nazi tourism from other towns to make use from the situation. Average, peaceful citizens are alarmed and not happy since they were not asked if they want to take these refugees. 
The German police, immigration officials and local authorities need time to work out procedures and accumulate experience; they can't handle unpredictable inflows. Residents notice that and begin to worry. As Interior Minister Thomas de Maiziere said Sunday, on reimposing border controls and halting rail traffic between Austria and Germany, "the goal is to limit the inflow and arrive at some orderly methods of dealing with it." 
The German government also wants other European countries to take in more people. European interior and justice ministers are meeting Monday in Brussels to discuss EU proposals to distribute the refugees more evenly among countries. By sending extra police to conduct passport checks on the Austrian border, Germany is telling other EU countries to approve the plan or face dealing with the refugees without Germany's help.
It's a bluff that's easy to call: The EU's biggest country will keep accepting asylum-seekers anyway, and they will find other routes to Germany if they need to. Still, other Europeans can't just pass the buck to Berlin. They, too, need to build up their capacity to accept refugees. Europe is now the global leader in handling asylum applications, leaving traditional countries of refuge such as the U.S. behind. EU countries are feeling their way in the dark, and they have to move fast because the inflows are increasing drastically:

According to the German migration service, in 2014, Germany accepted 60 percent more asylum-seekers than the year before. Other countries faced even bigger jumps: Italy's influx increased 142 percent, Hungary's 126 percent, the Netherlands' 87 percent, Austria's 60 percent. Now, the capacity of these countries is being overstretched, because many more people are coming this year -- in Germany's case, it expects about four times as many applicants as in 2014. 
The continent needs immigrants to replenish its aging workforces, so the crisis doesn't lie in the number arriving but the bottlenecks, which can best be unblocked with a coordinated effort. If Germany can persuade its neighbors, especially eastern ones, to participate, Europe may emerge from its current difficulties with an immigration-enabling machine the likes of which the world has rarely seen. U.S. presidential candidate Donald Trump and Hungarian Prime Minister Viktor Orban may disagree, but such a machine is, among other things, a requirement of global leadership.
To contact the author of this story:
Leonid Bershidsky at lbershidsky@bloomberg.net
To contact the editor responsible for this story:
Marc Champion at mchampion7@bloomberg.net
Before it's here, it's on the Bloomberg Terminal.
LEARN MORE