Why Airbus Built a U.S. Factory
Global supply chains are fine; being near customers is better.
by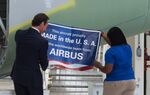 Airbus, which sells lots of planes to U.S. airlines, is opening its first plant in the country today. Actually, workers at the Mobile, Alabama, facility had already started putting together two A321 jetliners months ago, but today is the ribbon-cutting.