Governor Kasich's Standout Record in Ohio
His state is thriving compared with those led by some of his fellow Republican presidential candidates.
by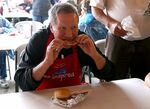 When senators run for president, they hold up their voting records. Governors seeking the White House proclaim they produced an economic miracle, cherry-picking data on jobs, budget and taxes.