We Might Be Near Peak Environmental Impact
Future growth won't depend on using ever-more resources.
by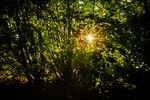 The Northeastern U.S. is full of forests these days, and those forests are increasingly full of bears, coyotes and other wildlife. This probably would have seemed inconceivable 150 years ago, when the region's trees were being clear-cut to oblivion. Undesirable, too. "Wilderness" didn't have really positive connotations at the time.