Greece, the World's Best Investment. No Joke.
Since Syriza was elected, nothing's performed better than Greek debt.
by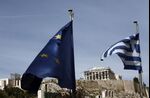 Remember last February, when former U.S. Federal Reserve Chairman Alan Greenspan said Greece would leave the euro and that the common currency would collapse? Remember that a month later, investor-philanthropist George Soros said Greece was going down the drain? Or that just this July, the president of the German Institute for Economic Research, Marcel Fratzscher, characterized Greece as a "political and economic catastrophe" that would revert to the drachma in desperation?