Biden's Broken Heart
He may have gone through too much to endure a presidential race.
by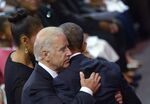 Can a man with a big hole in his heart run for president? In a gut-wrenching appearance on the "Late Show" with Stephen Colbert on Thursday, Vice President Joe Biden came close to answering no.