History Says the West Will Embrace Syrian Refugees
The hostility is unlikely to last.
by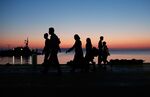 In May 1976, one year into Lebanon's civil war, Canada threw open its doors. "Any Lebanese people wishing to apply to come to Canada," Manpower and Immigration Minister Robert Andras told Parliament, "who can get out of the dangerous situation in Lebanon and go to a third country of any kind, can make application and we will expedite the procedure."