Falling Food Prices, Rising Deflation Risk
Central banks want a bit of inflation. Cheaper food doesn't help.
by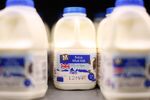 The 2 percent inflation target that the world's most important central banks regard as the Goldilocks scenario for consumer prices -- not too hot, not too cold -- looks less and less likely to be achieved any time soon in many countries. And with crude oil languishing at about $45 a barrel amid a glut of supply, the biggest decline in food prices in almost seven years suggests the risk of deflation is growing.
QuickTake The Trouble With Falling Prices
The United Nations compiles an index of 73 food prices. That index has fallen for 10 consecutive months, and figures released Thursday show the measure dropped by 5.2 percent last month. Food prices have now declined 35 percent from their peak in February 2011:

Embedded in the data are a 7 percent drop in cereals, an 8.6 percent decline in vegetable oil and a 9.1 percent slump in dairy prices. And while cheap food is a godsend to consumers, especially in poorer nations, it's a disaster for those countries that depend upon selling foodstuffs for income.
It's also bad news for central banks concerned that slumping prices may lead to deflation, defined as a sustained period of falling consumer prices. Inflation is running at an annual pace of just 0.2 percent in the U.S., Germany, France, Italy and Japan; Spain, Switzerland, Sweden, Singapore, Poland and Finland are all experiencing deflation.
The only places in the world where I see any inflation is in Chinese pork prices, which climbed almost 20 percent in August from a year earlier, and in the size of the screens Apple offers on its various gadgets. This isn't an environment in which the Federal Reserve should be considering raising borrowing costs.
This column does not necessarily reflect the opinion of the editorial board or Bloomberg LP and its owners.
To contact the author of this story:
Mark Gilbert at magilbert@bloomberg.net
To contact the editor responsible for this story:
James Greiff at jgreiff@bloomberg.net
Before it's here, it's on the Bloomberg Terminal.
LEARN MORE