Courts Can't Mend a Parent's Broken Heart
Questions of research ethics are best resolved by medical professionals.
by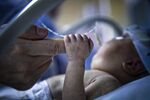 How much should you know before your baby is entered into a medical study? That complicated and heartbreaking question has been at the center of a controversy about a clinical trial that tested the effects of different oxygen levels on premature infants with extremely low birth weights.