A Nation of Refugees Opens Its Doors
In welcoming Syrian migrants, Germany assumes moral leadership of the West.
by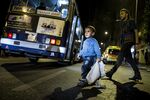 "Europe's biggest migration emergency since the Second World War" -- that's how most British newspapers described a massive influx of Syrian refugees last week. The accompanying stories criticized the callous response of political classes in the U.K. and Eastern Europe to the unfolding tragedy. Even sensationalist British tabloids that had previously blurred the distinction between economic immigrants and refugees fleeing war and persecution took up the self-righteous cry.