Political Ads Keep Saving Local TV
Older people still watch. And vote.
by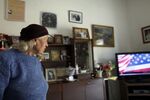 Meredith, the 113-year-old Des Moines, Iowa-based publisher of Better Homes and Gardens, Family Circle and Martha Stewart Living, has had chances over the past few years to become the world's biggest magazine company by combining with most of Time Inc. or buying it outright.