view
Clinton and Trump Promise to Confront Iran
No longer defending or fighting the nuclear deal, but preparing for what's next.
by and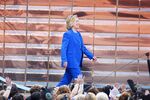 The next fight over the Iran nuclear deal -- now that it's assured to survive Congress -- will focus on how to stop Iran from dominating the region, after the agreement goes into effect.
Both front-runners in the 2016 presidential race, Hillary Clinton and Donald Trump, are scheduled to give major speeches on the Iran agreement in Washington on Wednesday. The candidates differ on the deal and how Congress should vote, but each is expected to argue that Iran must be confronted and contained after the agreement survives a coming Congressional challenge.
Clinton, according to a senior campaign official, will unveil a plan spelling out how she intends to enforce the complex provisions of the Iran deal and how she will orchestrate a strategy to push back against Iran's support for terrorism and destabilization of the Middle East. Clinton's plan is called "distrust but verify," a riff on Ronald Reagan's slogan on striking deals with the Soviet Union.
"I support this deal. I support it as part of a larger strategy toward Iran," Clinton will say, according to excerpts of her speech. "By now, the outcome of the deal in Congress is no longer in much doubt. So we've got to start looking ahead to what comes next: enforcing it, deterring Iran and its proxies, and strengthening our allies."
Clinton will put the Iran deal in the context of a broader regional U.S. strategy in the Middle East, and she will break somewhat with the Obama administration by predicting that Iran will not change its bad behavior. Obama officials hold out hope for broader U.S.-Iran cooperation on issues like Syria and ISIS.
"We need to be clear-eyed about what we can expect from Iran.  This isn't the start of some broader diplomatic opening," she will say. "And we shouldn't expect that this deal will lead to a broader change in their behavior. That shouldn't be a premise for proceeding."
Clinton will put the focus on countering Iran's proxies like Hezbollah and speaking up against Iran's abuses of its own people, and she will promise to press for the release of American prisoners in Iran.
That part of her message is similar to what Trump has already said about the Iran deal. As he told NBC's "Meet the Press" last month, he would meticulously enforce the contract with Iran and be tough when and if Iran cheated. He has said he would not rip up the Iran deal on the first day of his presidency. Most of his rivals have said they would.  
But Trump is likely to distinguish himself from Clinton in his speech Wednesday afternoon by trashing the deal itself and the negotiators. He wrote an op-ed in USA Today Tuesday stating that the Iran deal will lead to Iran becoming a nuclear state, prompting a regional arms race. Trump promises to renegotiate the Iran deal, ask Congress for new sanctions, and get the prisoners freed. "In fact, if I am elected, I am sure the prisoners will be released before my taking office," he wrote.
Other important differences between Clinton and Trump will also be apparent tomorrow.  Clinton will deliver her speech at the Brookings Institution, the establishment think tank known for its high-minded approach to national policy. Trump will deliver his speech at a rally on Capitol Hill organized by conservative grass roots groups like Tea Party Patriots, the Zionist Organization of America and the Center for Security Policy.
Unlike Trump, Clinton's task will be to show that she is one of the Democrats who support the deal, but would go beyond it to be tougher on Iran. On Tuesday, three important Democratic senators came out in favor of the deal, but in their statements these lawmakers also were up front in their criticism. Senator Richard Blumenthal, a Democrat from Connecticut, said, "While this is not the agreement I would have accepted at the negotiating table, it is better than no deal at all." Senator Gary Peters, a Democrat from Michigan, mentioned his "serious concerns" with the agreement in his statement supporting it. Senator Ron Wyden, a Democrat from Oregon, also said that although he supported it, the deal "falls short of what I had envisioned."
Senate Majority Leader Mitch McConnell announced on the Senate floor Tuesday that the Senate would begin debate Wednesday on a resolution of disapproval, based on a bill written by Senate Foreign Relations Committee Chairman Bob Corker and passed by the Senate earlier this year 98-1, called the Iran Nuclear Review Act.
The reluctant Democratic supporters gave the White House enough votes to assure Senate Republicans could not block the deal or even send the bill to the president's desk.. Minority Leader Harry Reid promised Tuesday to block a final up-or-down vote on the bill, prompting outcry from Republicans.
"I am very disappointed that some members on the other side of the aisle are reversing their positions and now are threatening to filibuster to keep the Senate from voting on this consequential agreement with Iran," Corker said Tuesday.
Republicans have wanted to put their opposition on record and force President Obama to veto their resolution, even if they can't stop the deal.
The Trump rally will include some voices, such as conservative author and talk radio host Mark Levin, that have been relentless in criticizing Republican leaders in the Senate for supporting the Corker bill, because it allows the deal to stand with only minority support in both chambers of Congress.
However, Senator Tom Cotton, a Republican from Arkansas who was the lone vote against the bill, told us that he blames the president for the Iran deal and not the Senate Republican leaders who helped craft the legislation. "Because of our constitutional system, if our president is intent on pursuing an unpopular policy and not respecting the treaty clause, there is a limited amount that Congress can do," he said.
But the Republican leadership cannot back down now, even though the legislative battle for them is lost. McConnell has instructed all Senate committees to refrain from holding any hearings this week and next, and he is telling all Republican members to clear their schedules and attend the debate on the floor.
The House is expected to vote on Friday, several Congressional aides said, and the Senate will vote sometime next week. Dozens of senators on both sides, both for and against the deal, will warn against Iran taking advantage of the deal to expand their regional violence. As that debate begins, Clinton and Trump will both make the case they are best equipped to deal with a post-deal Iran.
To contact the editor responsible for this story:
Philip Gray at philipgray@bloomberg.net
Before it's here, it's on the Bloomberg Terminal.
LEARN MORE