Millennials Can't Afford Cars, and Are Fine With That
They have less disposable income and better things to dispose it on.
by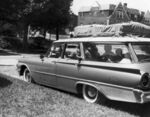 Young Americans are no longer all that interested in automobiles, the Washington Post's Marc Fisher wrote in a big article over the weekend. The smartphone has replaced the car in their affections; they now connect with friends over social media instead of at the drive-in. And so on.