view
Millennials Can't Afford Cars, and Are Fine With That
They have less disposable income and better things to dispose it on.
by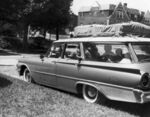 Young Americans are no longer all that interested in automobiles, the Washington Post's Marc Fisher wrote in a big article over the weekend. The smartphone has replaced the car in their affections; they now connect with friends over social media instead of at the drive-in. And so on.
As somebody who wondered in a column last week whether people in developed countries were perhaps learning that they no longer needed as much stuff as they used to, and whether this might lead to big shifts in the global economy, I read on with great interest. Then I was pulled up short by this:
"This is all actually economics, not preferences," says Sean McAlinden, chief economist at the Center for Automotive Research, a nonprofit group funded by government and industry grants. When the cost of owning a car drops below 10 percent of income, "young people will stop telling pollsters they can do without cars. You say you're not interested in owning something if you can't afford it," he argues.
Of course Sean McAlinden, a lifelong car guy, would say that. But what if he's right? What if millennials just convince themselves they aren't into cars -- or houses, or other trappings of 20th-century middle-class life in the U.S. -- because they can't afford them anyway?
It is certainly true that young men in the U.S. don't have as much money as they once did. I compared the inflation-adjusted incomes of the 25-to-34 age cohort to male workers of all ages, and the shift over the past half century is pretty striking:

In the U.S. economy of the 1960s and early 1970s, in which manufacturing was still a really big deal, able-bodied men in their 20s and 30s earned a premium over other workers. That premium collapsed after 1973, recovered a little in the late 1990s, and is now completely gone.
For women aged 25 to 34, it was a different story as they entered the workforce in big numbers in the 1960s through 1990s. But their incomes, too, have been falling since 2007, even as older women's have begun to recover slightly.

The declines for both sexes since 2007 may partly be the aftereffect of entering the workforce in the middle of the worst recession in 75 years, which can have a permanent negative effect on a generation's incomes. Part of it may be that, after decades of male-dominated jobs being rendered superfluous by technology, this is starting to happen to women, too. There are lots of other possible reasons -- changing demographics, rising income inequality, even parents with larger homes and more willingness to house their adult offspring in them.
The upshot is that McAlinden's argument is correct, in one sense. The changes in young adults' consumption habits have clearly been influenced by economic forces. But economic forces shape societal attitudes, too. I also don't see much sign that these economic forces are about to reverse. Both these things can be true: The median 25-to-34-year-old has less to spend, and is less interested in spending it on a car.
To contact the author of this story:
Justin Fox at justinfox@bloomberg.net
To contact the editor responsible for this story:
Paula Dwyer at pdwyer11@bloomberg.net
Before it's here, it's on the Bloomberg Terminal.
LEARN MORE