Three Charts That Should Restrain Bank of England
The data says the U.K. isn't ready for higher borrowing costs.
by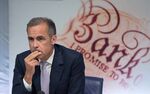 The Bank of England meets this week to decide whether to raise its benchmark interest rate, which has been stuck at 0.5 percent since March 2009. Its dilemma echoes that of the Federal Reserve: Is the economy really strong enough to withstand higher borrowing costs, and is it prudent to move before inflation shows any signs of accelerating? Here are three charts showing why the answer to those questions is no.
The Group of 20 industrialized nations pledged over the weekend to "refrain from competitive devaluations," a recognition that some nations, including Japan, have weakened their currencies in a bid to boost exports by making them cheaper relative to those of other countries. The principal victim in this currency war has been the U.S., which has seen the dollar appreciate by more than 20 percent in the past five years against the currencies of its main trading partners.
The British pound has also climbed and is up more than 17 percent on a trade-weighted basis since the start of 2013, a move that higher central-bank interest rates would likely accelerate:

The strong pound is also having an impact in the domestic economy, where Britain's retailers are getting killed. Figures last week from the business advisory firm BDO showed that in August, non-food retailers had their worst sales drop since 2008: Sales fell for the fourth consecutive month, posting a 4.3 percent decline that was led by a 5.5 percent drop at fashion retailers. The BDO, which surveys about 10,000 individual stores, reckons tourists are spending less because their euros are worth less.
In the wider world of retailing, a British Retail Consortium index shows that prices have dropped for 27 consecutive months, and figures scheduled for release on Wednesday are expected to remain in negative territory, according to analysts surveyed by Bloomberg:

The most important trend that should inhibit the Bank of England from raising rates, though, is the slow recovery of wages. While the lack of inflation means real incomes have been rising since October, British workers suffered years of falling incomes, with an average annual drop of almost 1.5 percent between June 2008 and September 2014:

On Aug. 6, the bank's Monetary Policy Committee decided by 8-to-1 not to change borrowing costs, with Ian McCafferty the only committee member voting to raise rates. That outcome is expected to be repeated on Thursday, according to the consensus of economists surveyed by Bloomberg News.
At last month's meeting, Bank of England Governor Mark Carney said of interest rates: "The exact timing of the first move cannot be predicted in advance; it will be the product of economic developments and prospects. In short, it will be data dependent." As things stand, the data says U.K. rates should stay on hold, no matter what the Fed does when it meets to set policy on Sept. 16-17. 
This column does not necessarily reflect the opinion of the editorial board or Bloomberg LP and its owners.
To contact the author of this story:
Mark Gilbert at magilbert@bloomberg.net
To contact the editor responsible for this story:
Marc Champion at mchampion7@bloomberg.net
Before it's here, it's on the Bloomberg Terminal.
LEARN MORE