Assistant Coaches Hop on the College Football Gravy Train
Three coordinators this year will make $1.5 million each.
by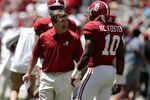 The college football season is underway, and the marquee game of Week 1 will be Alabama-Wisconsin, the only contest featuring two top-25 teams. It will also feature one of three NCAA assistant coaches who, according to USA Today, this year broke $1.5 million salary barrier: Alabama defensive coordinator Kirby Smart.
Kirby who got a $150,000 raise after last season, is tied atop the assistant-coach list with LSU offensive coordinator Cam Cameron, who got a $200,000 raise, and Texas A&M defensive coordinator John Chavis. While million-dollar salaries might seem like an SEC luxury, Power 5 coaches have enjoyed unprecedented income growth in recent years. The Washington Post reports that 116 coordinators throughout college football earned $400,000 or more last season. According to USA Today, as of December, assistant coaches have seen a 52 percent pay increase in the last five years.
There are several explanations for the rise, and it's not just due to a few outliers of former head coaches being hired to coordinator positions, such as Lane Kiffin at Alabama and Will Muschamp at Auburn. Lucrative television contracts are a major cause, and help explain how the SEC has managed to separate itself from the rest of the pack. In 2011, the SEC inked a $3 billion, 13-year rights deal with ESPN and CBS. The 2014 launch of SEC Network, a joint venture between the SEC and ESPN, is a cash cow; after just nine months, the SEC's television revenue to be distributed to member schools ballooned from $292.8 million to $435 million, increasing the split per school from $10.3 million to $31.2 million.
The rise of assistant salaries also follows the pattern of head coaches' compensation, which tends to come under greater scrutiny, especially as reports come out year after year putting them in context of other state employees. In 2014, college coaches were the highest-paid public employees in 40 states. But while Nick Saban makes more than $7 million as Alabama's head coach, another $5.3 million or so goes toward compensation for the Crimson Tide's on-field assistant coaching staff. LSU head coach Les Miles makes $4.3 million; the Tigers' nine assistants will pull in nearly $5.3 million. The 25 highest-paid coaches in college football made an average of $3.85 million last year, which Newsday's Jim Baubach notes is higher than the $3 million salary Rex Ryan pulled in to coach the New York Jets. Meanwhile, the $1.5 million Smart, Cameron and Chavis make as coordinators is more than the $1.4 million Los Angeles Dodgers manager Don Mattingly was set to make before signing a contract extension last January.
All this goes to show you just how empty it is when big-time athletic departments cry poor, especially in the conversation over compensating the athletes that provide the product at the center of those television deals. Funneling money to multi-million-dollar coaching staffs and ridiculously expensive stadium renovations -- along with dubious accounting practices -- are a great way to maintain the illusion that college sports is a not-for-profit public service rather than a cutthroat business that's exploited its labor force for decades.
Head coaches such as Saban are the perfect face for the hypocrisy of college sports -- recognizable, larger-than-life figures who make salaries most fans could probably recite at a party. (NBC Sports has dubbed Saban the "Seven Million Dollar Man," for example.) Their defenders tend to excuse the discrepancy between their salaries and those of other public employees, not to mention players, by noting the need for big-name, high-salaried coaches to recruit players and build a program on prestige. I wonder how many of those people would say the same about a defensive backs coach who makes half a million a year. Good coaches are undoubtedly a valuable resource, but they're being sold as a perk, like fancy locker rooms, to "compensate" players without actually compensating them.
As antitrust economist Andy Schwarz has noted, you can see just how unfair the NCAA's system is -- just how much it's run like a cartel -- by imagining what it would look like if it weren't. Players would be paid as wealthier schools would take advantage of their competitive upper hand, and coaches' salaries would account for a fraction of the revenue share they have now. You see that in the pros; even with players losing some of their share of income in recent labor negotiations, they still enjoy a much higher share of revenues than the guys on the sidelines. According to Schwarz, coaches in the NBA and the NFL earn about five percent of total payroll.
Instead, college teams take their enormous revenue and channel it to areas that probably don't need them. In economics, this is known as "gold-plating," which Schwarz defines as "spending more than is necessary on aspects of the organization simply because money is available to be spent." Such cost-padding goes hand-in-hand with the NCAA's ability to fix its workers' pay at the value of a scholarship. Until that changes, expect to see ever more gilded coaches and coordinators on the sidelines, while the players on the field settle for pyrite.
(Corrects Andy Schwarz's profession in seventh paragraph.)
To contact the author of this story:
Kavitha A. Davidson at kdavidson19@bloomberg.net
To contact the editor responsible for this story:
Tobin Harshaw at tharshaw@bloomberg.net
Before it's here, it's on the Bloomberg Terminal.
LEARN MORE