Trump's Foreign Policy Is All Over the Map
The front-runner's contradictory worldview shows he's not up to the job.
by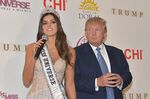 Donald Trump's shortcomings on foreign policy extend way beyond his inability to name terror group leaders on a radio interview. The entirety of his utterances reveal a potential president who would reshape U.S. foreign policy into a mess of conflicting and often incoherent policies, and delegate the most important issues of national security to as-yet unnamed subordinates.