The Renowned German Artist Who May Not Exist
Karl Waldmann, an artist whose work has been sold and exhibited in many countries, may be an invention.
by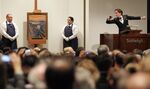 An elaborate scam -- or call it a postmodern art project -- is coming to an end in Germany. Kunsthaus Dresden, the city's contemporary art gallery, has removed works by an artist named Karl Waldmann after the police announced it was investigating whether there ever was anyone with that name.