Job Market Doesn't Justify a Rate Increase
The employment picture isn't looking as good as it did when the Fed raised rates in the past.
by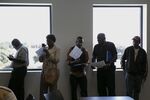 Has the U.S. job market recovered enough for the Federal Reserve to start pulling back on economic stimulus, ending an unprecedented period of near-zero interest rates? Judging from how the Fed has acted in the past, it could wait awhile longer.