Editorial Board
Europe's Economy Needs Action, Not Words
Governments need to enact fiscal policy and financial reform.
by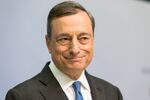 European Central Bank President Mario Draghi is something of an expert at moving markets by doing nothing, and he showed his prowess again yesterday. He said the ECB stands ready to stimulate Europe's sluggish economy further, but has no plans to do so right now. That was seen as dovish, so European stocks advanced, euro bond-yields declined, and the currency slipped 1 percent. 
Good news. It all helps -- and Europe's floundering economy sure needs help. In fact, though, there's little more the central bank can do. What Europe needs most is for its governments to act, especially on fiscal policy and financial reform.
Under its existing program of quantitative easing, the ECB buys 60 billion euros worth of bonds a month with the aim of reducing long-term interest rates. It previously said these purchases would continue until "at least September 2016." On Thursday, Draghi said the program would continue until September 2016 "or beyond, if necessary." Notice the difference. The central bank also raised the limit on the share of any asset it can hold from 25 percent to 33 percent; for now, this will have no effect on the program.
The case for a more forceful stimulus is already strong. Draghi said the ECB has (again) downgraded its forecasts for output and inflation. Even by 2017, it expects growth of less than 2 percent and warns there may be spells of falling prices. But with short-term interest rates on the floor and QE proceeding at a brisk pace, the central bank acting alone lacks options. It has soothing words and not much else.
The responsibility for reviving growth in Europe mainly rests with governments. Those with enough fiscal headroom to safely increase public borrowing (Germany, especially) ought to do so. They're disinclined. And the euro area as a whole needs to ease the pressure of austerity on governments that lack such fiscal space (Greece, among others) through debt restructuring and limited pooling of fiscal risk. There's little sign of either.
Looking to the future, a fiscal plan first mooted years ago would make a real difference: Create two classes of government debt, one with a joint guarantee, up to a maximum of 60 percent of gross domestic product, and one without. The safe debt would be cheaper to service even if Europe's problems again took a turn for the worse, while the risky debt would command a premium and hence apply automatic fiscal discipline. This kind of fiscal cooperation isn't even being discussed.
A stronger European recovery needs financial as well as fiscal integration. Here, at least, reforms are being attempted -- but they're moving too slowly. Europe has created a Single Resolution Mechanism to help recapitalize failing banks, but hasn't equipped it with the resources it might need. It has run stress tests on its banks to check for vulnerabilities, but the tests haven't been demanding enough. It had plans for a single deposit insurance scheme, but dropped them.
At the end of this month, the European Commission is expected to propose changes to promote a more integrated capital market. The idea is to lower the regulatory and other barriers that deter savers and investors from doing business across the euro area's internal borders. It's vital both for spurring investment and for strengthening the system's defenses against the next crisis. Preparatory work, discussion and consultation are all under way -- Europe is peerless when it comes to preparatory work -- but the destination of a truly integrated capital market is still nowhere in sight.
Dovish words from Draghi are well and good. But they won't revive the European economy, and they won't be much use when the next crisis comes around.
--Editors: Clive Crook, Mary Duenwald.
To contact the senior editor responsible for Bloomberg View's editorials: David Shipley at davidshipley@bloomberg.net .
Before it's here, it's on the Bloomberg Terminal.
LEARN MORE