ECB Should Drop 2% Inflation Fantasy
Keeping the target makes the central bank look ineffective.
by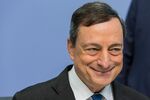 European Central Bank President Mario Draghi was asked on Thursday whether his institution should consider revising its 2 percent inflation target. "It would test our credibility if we were to change the target when it's taking more effort to achieve that target," Draghi replied. "There hasn't been any discussion about changing the target for inflation." With the ECB cutting its own forecasts for the next three years, however, it's time the central bank faced up to reality and admitted defeat -- and no shame should attach to that backtrack.