Will Jobs Be the Fed's Tiebreaker on Rate Hike?
The central bank must weigh the strong U.S. economy against global market turmoil.
by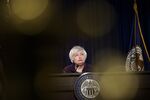 Federal Reserve officials could be in a jam as they prepare for their Sept. 16-17 policy meeting: The growing divergence between the relatively healthy U.S. economy and the turbulence elsewhere is complicating their deliberations over whether to begin a rate-raising campaign immediately or delay any action until December or beyond.