Republicans Lash Themselves to Trump
The party will regret this pledge. It ties the nominee irrevocably to Trump.
by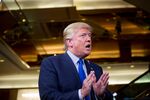 Imagine that it's October 2016. Republican presidential nominee George Pataki (amazing, right?) is striking a delicate balance between aggressive pandering to Hispanic and Asian voters and soothing the resentments of the Tea Party, whose loyalists are once again grumbling that their guy didn't win the nomination.