How Modi Can Get Back on Track
The focus should shift to radical changes that'll benefit the poor, not just the middle class.
by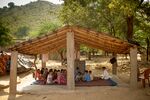 A year ago, newly elected Indian Prime Minister Narendra Modi was promising to do big things, including amend a law that made it unreasonably difficult for companies to acquire land for factories and infrastructure projects. He's more or less given up on that particular ambition, after stumbling into fierce resistance in the opposition-dominated upper house of parliament. The climbdown comes just as GDP growth slowed to 7 percent in the second quarter, disappointing those hoping India would shoot past a faltering China to become the world's fastest-growing major economy.