Free-Agent Nation Is Shrinking
Gig workers get full-time jobs as the economy grows.
by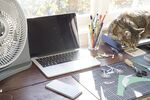 There aren't many good data sources on the size or trajectory of the gig or freelance economy in the U.S. The government stopped trying to measure it systematically after 2005 because of budget constraints. One of the entities that has been trying to fill the gap is MBO Partners, which provides back-office support for independent professionals. Since 2011 MBO Partners has sponsored surveys of independent workers in the U.S. that try to get at the numbers of independents and examine what's on their minds. 
This year's edition of the MBO Partners State of Independence Report will be released later this month, but some of the numbers are already out, and they include a remarkable result that no one seems to have picked up on yet: The estimated number of people doing 15 or more hours per week of independent work  fell in 2015. 

One shouldn't make too much of this drop from 17.9 million to 17.8 million independent workers, or "solopreneurs," as MBO Partners sometimes calls them. The 2015 result is from a survey of 1,065 people; the 100,000-person difference in the number of independent workers is well with the margin of error. The fact that the number has been pretty much unchanged for three years may mean something, though.
What it probably means is that, while there may well be a secular shift going on toward independent or contingent work, cyclical economic forces are stronger. Whenever the job market has strengthened in past decades, people have left self-employment and other independent-type work to take regular full-time jobs. Sure enough, that appears to be happening again.
Steve King of Emergent Research, the Lafayette, California, company that designs the State of Independence surveys, had this to say in an e-mail:
The strong economy is pulling people back into traditional employment, especially those who don't want to be independent and prefer traditional jobs. This group makes up about 30 percent of all independents -- although it fell a borderline statistically significant 2 percent in 2015 to 28 percent. I wouldn't read too much into this, but it supports the idea that these folks returned to traditional jobs. So do our interviews and focus groups.
The group that King and MBO Partners are trying to track is a subset of what others have called the contingent or freelance workforce. These are people who describe their job status as: an independent consultant/contractor, self-employed, a freelance worker, a temporary worker, a fixed term contract worker, an on-call worker or a small business owner with fewer than four employees. Other attempts to measure this segment often throw in part-time workers and other categories. This includes the Government Accountability Office's much-cited and, as I wrote last week, problematic estimate earlier this year that 40.4 percent of U.S. workers are in contingent or alternative work arrangements.. (MBO Partners' estimate of 17.8 million independent workers amounts to 12 percent of the current workforce.)
Still, you would expect the general trajectory to be similar. The percentage of workers laboring part-time always rises during economic slowdowns and falls during recoveries, which it has been doing during this recovery. And from 1995 through 2005, when the Bureau of Labor Statistics did keep track of what it called "contingent and alternative employment arrangements," the pattern was a decline in the percentage of workers in such jobs in the booming late 1990s followed by a rise in the anemic job market of the early 2000s. Although the overall trend was down, from 32.2 percent in 1995 to 30.6 percent in 2005, 1 that may just have been a function of the start date and end date. An alternative measure, derived from tax data by the Census Bureau, of the number of nonemployer businesses does show a rise from 1997 through 2013  -- although it's been little changed as a percentage of the workforce since 2011.
King, one of the most careful observers of the freelance economy, is convinced that it is growing. But he has had to ratchet down his growth projections. In 2012 the MBO Partners estimate of the independent workforce rose to 16.9 million from 16 million the year before, and on the strength of that leap MBO projected that they would rise to 23 million by 2016. That clearly isn't going to happen. Free-Agent Nation isn't taking over the nation just yet.
Still, there are some interesting signals in the data. The estimated number of independent workers making more than $100,000 a year has been rising strongly, King says, from 2 million in 2011 to 2.7 million last year to 2.9 million in 2015. "The Rise of the Supertemp" -- highly paid lawyers, accountants and other professionals who prefer gig work to corporate jobs -- that Jody Greenstone Miller and Matt Miller proclaimed in a 2012 Harvard Business Review article appears to be continuing. 2   King also reports that the percentage of independent workers with health insurance has risen dramatically, from 64 percent in 2013 to 82 percent in 2015, largely as a result of the Affordable Care Act.
With the U.S. economy mostly chugging along and companies hiring at a healthy pace, though, some independent workers are finding that a full-time job with benefits still looks pretty good. The world of work is changing, but it hasn't changed so much that people no longer accept attractive job offers. 
These numbers aren't comparable to the 40.4 percent figure cited by the GAO. Different surveys, different questions.
To contact the author of this story:
Justin Fox at justinfox@bloomberg.net
To contact the editor responsible for this story:
James Greiff at jgreiff@bloomberg.net
Before it's here, it's on the Bloomberg Terminal.
LEARN MORE