Clerk Opposed to Gay Marriage Shouldn't Go to Jail
She should go to a different job.
by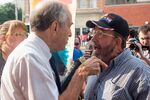 A Kentucky clerk has been ordered to jail for refusing to issue licenses for gay marriages. This seems like a tad bit of an overreaction. Unfortunately, it's what we've come to in the culture wars.