Brazil's Political Jungle Swallows Its Economic Superman
Finance Minister Joaquim Levy has a plan for Brazil's economy. But is anyone listening?
by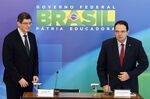 For anyone looking for a snapshot of Brazil's economic travails, you could do no better than the press conference Aug. 31 unveiling the government's 2016 budget, replete with a whopping deficit of 30.5 billion reais ($8.1 billion).
Any other day, all eyes would have been on the tallest man in the room, Joaquim Levy, the six-foot-four finance minister whose University of Chicago diploma and low threshold for fiscal folly have made him the toast of foreign investors and President Dilma Rousseff's guarantor of sound economics.
Now, however, Brazil's top economist seemed laconic and suddenly diminished. Instead, planning minister Nelson Barbosa took the microphone to explain why, for the first time since Latin America's biggest country beat hyperinflation and restored responsible accounting, a government had sent congress a budget proposal that it readily admitted didn't add up.
Rousseff's spin men put this down to forthrightness -- see, no more accounting tricks to disguise a shortfall, boasted Vice President Michel Temer -- but managed only to give transparency a bad name.
Though plenty of prior administrations had missed spending targets, and military dictators routinely hid their financial skeletons, no elected government in the last two decades had ever thrown in the towel before the fiscal year began.
Political analysts were stumped, but most reckoned Rousseff was playing political chess, daring congress -- yes, congress -- to balance the budget. Fat chance, said former finance minister Mailson da Nobrega. "Legislators play to the gallery, which sings the national anthem at every line item."
The stakes are high. A severe recession and stubborn inflation have gutted government coffers at the same time Brazil needs to trim waste and generate a budget surplus to convince creditors not to downgrade the country's debt to junk, which would send borrowing costs soaring.
Damage control fell to Levy, who put in 18-hour days scavenging for savings, cajoling investors, strong-arming ministers and preaching parsimony to legislators. But Brazil's guarantor lacked a guarantor.
With Rousseff's own approval ratings sagging to record lows, Levy saw his initiatives diluted when they weren't sabotaged by spendthrift legislators and the populist wing of the ruling Workers Party. His target for a modest primary budget surplus was reduced nearly to zero. A planned 80 billion-real spending cut fell to below 70 billion.
Instead of curbing the bloated bureaucracy, some of Rousseff's top advisers, led by Barbosa, proposed feeding it by recreating a financial transactions tax. Levy dissented, but toed the line, only to see Rousseff withdraw the plan when congress and business leaders lashed out.
Rousseff, belatedly, came to Levy's defense, denying he was isolated or on his way out. "We have the utmost respect for the minister," she said Sept. 2.  That's not always how it looks. "The wear is showing," said financial analyst Alexandre Schwartsman, a former Central Bank director. "I would have said 'Stuff it' a long time ago."
If fiscal adjustment has been tough, what to say of the aggressive structural reforms that Levy defended to right-size government, control runaway pensions and boost productivity?
Brazil's road to insolvency began well before Rousseff's tenure and was paved with democratic intentions. The problem dates to 1988, when a new generation of lawmakers sought to throw off two decades of authoritarian fiat by burning liberties and entitlements into a new constitution.
The result was a 400-plus page tome which bound elected leaders to spend fixed percentages of revenues on education, health and welfare. The arrangement looked grand on paper but left governments scant room for emergencies and discretionary spending.
But Brazilian political caciques are masters in finding ways to perdition, then passing on the bill: The national tax burden rose from 25 percent of gross domestic product in 1991 to just over 35 percent in 2014, economists Mansueto de Almeida, Marcos Lisboa and Samuel Pessoa concluded in a recent study.
In most emerging market nations, taxes represent less than 30 percent of the economy, the study added.
Nonetheless, government revenues grew a remarkable 7 percent a year above inflation from 2000 to 2011, leaving plenty of extra to spread to pensioners and public sector wages.
Then Brazil's economy ran out of steam, but the government's appetite didn't: After 2011, revenues rose 1.5 percent a year while federal  spending continued to grow at 5.4 percent above inflation.
Consider the munificent pension system, where the average retirement age is a sprightly 54 for men and just 52 for women. "Pensions are just the most visible symbol of a country that gives away more than it has. A country that grew old before it developed," the trio of economists concluded.
Minister Levy put it more gently. "We have a plan beyond the [fiscal] adjustment, but we need a bridge to stability," he reiterated recently. It remains to be seen whether anyone is still listening. 
This column does not necessarily reflect the opinion of the editorial board or Bloomberg LP and its owners.