view
Will a Killing Force an Immigration Fix?
The system is broken, and now we face the deadly consequences.
by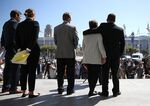 The family of Kathryn Steinle -- who was killed in San Francisco in July -- announced yesterday that it is suing San Francisco Sheriff Ross Mirkarimi, Immigration and Customs Enforcement and another federal agency, blaming them for the woman's death. If there were a way to sue the entire U.S. immigration enforcement system, the family would probably be justified. But the system has been so fractured that no single institution seems accountable. "At this point, nobody has taken responsibility, accountability," the victim's brother, Brad Steinle, said at a news conference.
An undocumented immigrant, Juan Francisco Lopez-Sanchez, is accused of killing 32-year-old Steinle. He has pleaded not guilty. Lopez-Sanchez's record includes seven felony convictions and five deportations. Local authorities gained custody of him from federal agents to pursue possible drug charges. After local prosecutors declined to charge him, Lopez-Sanchez should have been handed over to federal authorities for deportation. Instead, he was released in April.
Steinle's killing was shocking but not surprising. Immigration enforcement in the U.S. is a convoluted mess. Policies are issued from Washington. Localities apply their own spin. And in between the feds and the locals are U.S. Immigration and Customs Enforcement field offices, where agents sometimes have their own distinct ideas about enforcement.
Like San Francisco, many liberal cosmopolitan centers have provided "sanctuary" for undocumented immigrants. In thousands of cases, local authorities have declined to turn over undocumented immigrants to ICE. While liberal cities (even states) opted for sanctuary status, anti-immigrant hotbeds such as Arizona and Alabama have pursued policies explicitly designed to drive undocumented immigrants away. Sometimes the crazy quilt covers a single region: When the San Jose Mercury News surveyed local law enforcement in a handful of Bay Area counties in August, the newspaper found multiple policies at work.  
Dysfunction in the immigration enforcement system has a long history. Sanctuary cities arose in the 1980s to shield undocumented Central American immigrants who had fled U.S.-backed wars in the region. Long after the fighting stopped, however, cities continued to limit cooperation with federal immigration agents.
Whatever impetus to cooperation was provided by the Sept. 11 attacks also faded. From 2008 to 2014, the Department of Homeland Security attempted to sell local governments on the merits of its Secure Communities program. Under Secure Communities, local law enforcement agencies sent the fingerprints of arrestees to ICE, which used its database to determine an arrestee's immigration status. "Detainers" were then filed for immigrants who the federal authorities sought to deport. Some were criminals, others just unlucky. Deportations from the nation's interior (that is, the removal of immigrants who had evaded the border patrol) rose significantly.
But local governments chafed. Concerned that the feds were deporting productive community members and sowing distrust of police, more than 300 counties limited their cooperation with federal immigration authorities.
In a statement released after the Steinle killing, San Francisco Mayor Ed Lee explained the logic of noncooperation: "We want people to report crimes, we want children of undocumented immigrants to attend school, and we want families to get access to much needed social services without fear of their city government reporting them to federal authorities."
Last November, DHS ended Secure Communities and defined new, more selective "priority" classes of undocumented immigrants, such as threats to national security and public safety, who should be targeted for deportation. In July, DHS replaced Secure Communities with a program based on the new priorities, Priority Enforcement Program. Under PEP, local authorities are still required to send fingerprints of arrestees to ICE. But the federal government will only seek custody of convicted criminals or others specifically prioritized for deportation. Under the new guidelines, ordinary, nonviolent undocumented immigrants are basically ignored.
In effect, the federal government has embraced the spirit of sanctuary while still seeking to deport criminals and other potential threats to public safety. The new enforcement priorities should end the standoff between the feds and local governments. But distrust lingers, and regional ICE agents, who execute policy in the field, are not always on the same page as their leaders in Washington, let alone local authorities.
The Steinle killing exposed the system's dysfunction. What's unclear is whether the disparate elements of immigration enforcement can work coherently. For now, it seems enforcement still varies by zip code. Without a uniform nationwide policy, uniformly applied, cracks are bound to appear. Another Lopez-Sanchez will likely fall through.
To contact the author of this story:
Francis Wilkinson at fwilkinson1@bloomberg.net
To contact the editor responsible for this story:
Zara Kessler at zkessler@bloomberg.net
Before it's here, it's on the Bloomberg Terminal.
LEARN MORE