The Russian Airline That Was Too Big to Fail
Transaero's state-sponsored rescue will only make things worse.
by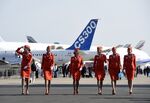 The board of Aeroflot, Russia's flag carrier airline, is expected Thursday to approve the purchase of three-quarters of its biggest private competitor, Transaero, for the princely sum of one ruble (less than two U.S. cents). The de facto government rescue is a symptom of Russia's crisis in domestic demand, and of a misplaced faith in state interference that is deepening the country's economic problems.
I first wrote about Transaero in 1994, the year after it became the first Russian airline formed independently of the former Soviet state carrier to run scheduled flights. "Transaero: New King of the Skies," said the headline. That may have been a bit starry-eyed, but Transaero, indeed, represented a stark contrast to the Aeroflot splinters, known as "babyflots," which plied the country's domestic routes using old, unreliable Soviet-made planes.
The new airline leased Boeing aircraft and hired cabin crews without Aeroflot experience, training them overseas. It was an attempt to bring Western service quality to Russian passengers, many of whom had only heard of it, and it was almost immediately profitable.
This wasn't quite a green-field miracle: Transaero's founder Alexander Pleshakov is the son of Tatiana Anodina, an influential figure who runs the Interstate Aviation Committee, the aircraft certification and air safety board for most post-Soviet countries. Still, the company was all new, with Pleshakov's vast connections its only Soviet baggage.
The intervening years were kind to both Aeroflot and Transaero. The state carrier, which, unlike its private competitors, receives about $300 million a year in royalties from foreign airlines that fly through Russian airspace, got its act together. It, too, acquired new foreign-made aircraft. It joined the SkyTeam alliance with Air France, Korean Air, Delta Airlines and others. Last year, it carried 34.7 million passengers. Transaero did lucrative business using wide-body jets to ferry Russian tourists to holiday destinations in Asia and the Middle East, making it Russia's No. 2 airline with 13.2 million passengers in 2014.
Transaero, however, took a wrong turn when the industry recovered after the global financial crisis, embarking on an ill-conceived fleet expansion. Its debt doubled between 2009 and 2011, and much of this was denominated in dollars and euros. It was ill-prepared for the double whammy of ruble devaluation and plummeting demand for travel, as Russian real incomes shrank. Last year, Transaero recorded $251 million in foreign exchange losses and a net loss of $383 million. Worse, it soon became clear that the company's previous rosy financial results had been the fruit of creative accounting, including a failure to amortize leased planes and an inflated assessment of the company's brand value. 
With total debt of $1.8 billion at the end of last year, a negative profit and little chance of market refinancing, Olga Pleshakova, the founder's wife and the airline's chief executive, bet on government support. Early this year, Transaero got a 9 billion ruble ($133 million) government guarantee, which allowed it to get financing from the state bank VTB. Then it proceeded to lower ticket prices to some popular destinations and open sales up to 11 months in advance.
Aeroflot's chief executive, Vitaly Savelyev, accused Transaero of using the state support "for dumping," a charge Pleshakova denied. Savelyev, however, was not the only one who suspected something fishy was going on. The business newspaper Vedomosti quoted a Russian government official as saying Pleshakova had attempted to "blackmail" the government with the number of tickets her company had sold, demanding more aid lest the passengers be stranded.
Savelyev, for his part, has long opposed subsidies for failing airlines. "There are 126 airlines in Russia," Savelyev said in an interview. "That's too many for a country with 100 million passengers. So we're waiting for these companies to go bankrupt."
The government, however, decided otherwise: At Thursday's Aeroflot board meeting, its representatives have been instructed to vote for the takeover of Transaero, forcing the carrier's aging fleet, huge debts and millions of cheaply presold tickets onto Aeroflot. The deal also unnecessarily rescues the Pleshakov family and other, smaller shareholders, leaving them 25 percent of Transaero. The state airline, which lost $409 million last year, can ill afford it.
The combined company would have about 56 percent of the Russian air travel market, a share that wouldn't shrink much even after schedules were harmonized. Foreign airlines are cutting flights to Russia because of lower demand, and Delta is quitting the market altogether this year. Aeroflot's growing monopolization would either mean higher prices for travelers and a further drop in traffic, or a deeper hole in the airline's pocket.
There's little doubt Aeroflot will get government support if necessary: Russia is not Hungary, Kosovo or Macedonia, which can do without flag carrier airlines. Aeroflot, a brand that survived even the Soviet Union's collapse, will not be allowed to fail. So Russian taxpayers are likely to foot the bill for Transaero's losses.
The economic system built under President Vladimir Putin, which prioritizes the state and state-owned companies, is ill-suited for major crises like the one Russia is undergoing now: It isn't flexible enough and requires government resources to maintain. Putin's inner circle doesn't appear to understand that, and they are digging the Russian economy deeper into a hole.
This column does not necessarily reflect the opinion of the editorial board or Bloomberg LP and its owners.