Cameron's Trick Question on U.K's Future in EU
How you frame the referendum matters.
by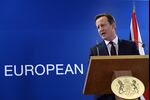 The U.K. government has promised a referendum on whether the nation should stay in the European Union or try its luck in splendid isolation outside the trading bloc. The stakes are high; and with the immigration issue splashed across the front pages of newspapers throughout Europe, a small setback for British Europhiles this week is a timely reminder that there's a non-negligible risk that the vote might prove harder to win than opinion polls currently suggest.