The 'Serena Bump' Gives Women's Tennis a Sellout
Advertisers may have a problem with the face of tennis, but fans don't.
by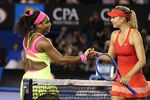 The U.S. Open kicked off Monday, with all eyes on Serena Williams as she aims for the calendar-year Grand Slam and to tie Steffi Graf with 22 major singles titles. The last week has seen thinkpiece after thinkpiece about Williams' legacy, her place among the greatest athletes ever, and her role in exposing the racism and sexism of tennis fans and the sporting press.